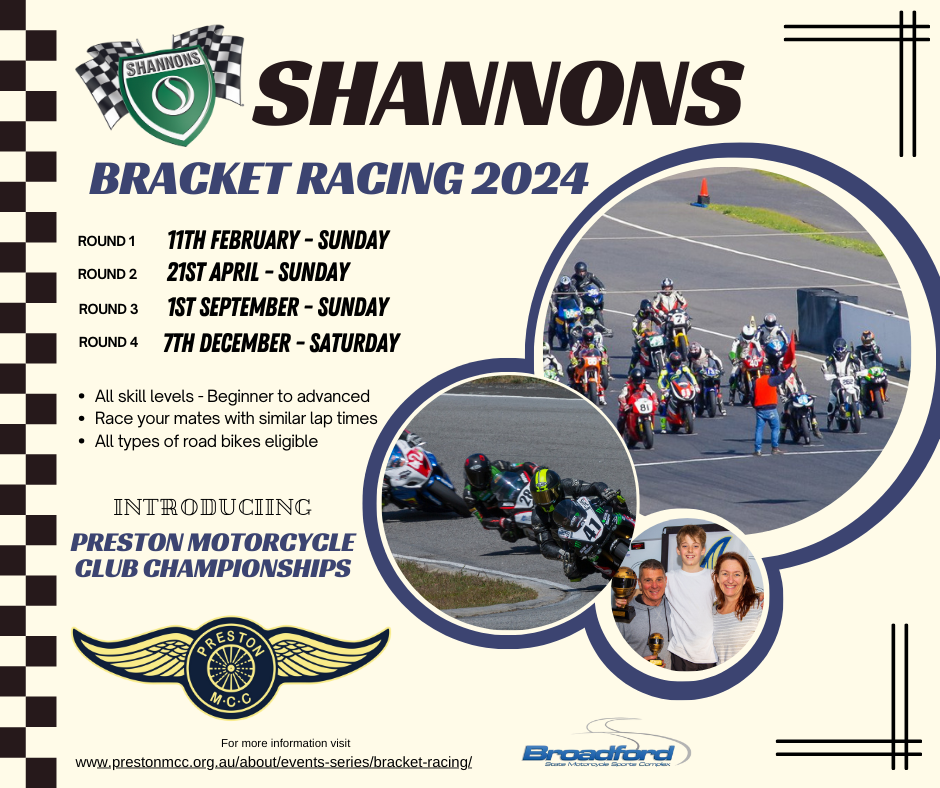 2024 Planning is currently underway.

We have some changes to the Bracket Racing Series and look forward to bringing our Club Championships back to life, as part of the Bracket Racing Series.
We will post news and information later in 2023, as it comes together.

What is Bracket Racing?
Ever thought about moving up from track days and going racing with your mates?
It doesn't matter if you are a novice, or an advanced rider, Bracket Racing is open to all eligible bikes and racers. Bracket racing is a form of racing where competitors are grouped into brackets according to their lap times, and not by the class of bike they are riding. This form of racing provides a very enjoyable and low cost form of racing.
What do I need to do to prepare my bike?
Your bike will need to conform with the requirements of road racing as per the GCR's, such as lock wiring, removal of stands and glass etc. Preston members will be able to help you with your bike preparation if you are unsure how to do it. There is a handy prep guide below for those new to racing.
What do I need for protective clothing?
You will need full leathers 1 or 2 piece that zips together as well as the usual requirements of back protector, gloves, boots and helmet that comply with the GCR's.
To enter you will need to be a member of the Preston MCC and hold an MA race licence or purchase a 1 day competition licence.
What are you waiting for? Grab your mates and get racing!
2023 Bracket Racing Supplementary Regulations
The Supplementary Regulations and entries for this series and currently under review and will be posted once approved.
Bracket Racing Prep Guide 2023
This guide is designed to assist people to prepare their bikes in line with the current regulations. It is not designed to replace the General Competition rules found in the 2022 Manual of Motorcycle Sport. All riders are encourage to read the rules prior to entering. https://www.ma.org.au/licences-rules/rules/general-competition-rules/