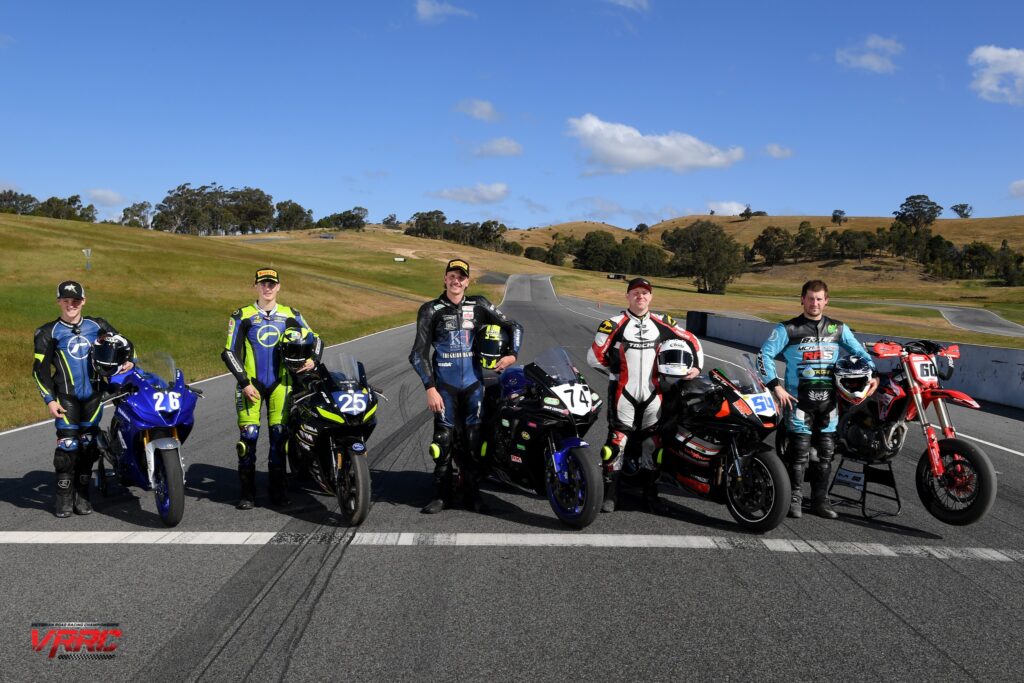 Congratulations to your 2023 Victorian Road Racing Champions.
Taking out the Superbike championship aboard the Race Center Yamaha YZF-R1 was Tim Large , who finished the round in second place with a 2-2-3 result. The end result saw him winning his maiden Superbike championship with a total of 265.5-points on the board, 15.5-points clear of Ben Gotch.
Irishman Brendan Wilson held his nerve to lock up his very first Victorian Supersport Championship. Wilson won the title, scoring 251-points to Harley Side's 243 with Side's Race Center teammate, Will Sharrock completing the top three.
The Supersport 300 Championship was the closest in terms of points. Brodie Gawith sealed the deal on the Megacycle R3, beating Steve Sforzin by a slender three points.
Oscar Lewis took out the Junior Championship. Lewis strung together a 2-1-2 result which was enough to see him winning the title with 195-points locked away to Ethan Johnson's 171.
Joshua McLean proved too good for the rest of the field in the Supermoto Championship, winning all six races in the 2023 season, meaning he scored a perfect score of 150-points, 30-points clear of Brad Gander.
Well done to all of the other class champions. We look forward to seeing you all back in 2024!
Have a great break and ride safe!
The 2024 Pirelli Motul Victorian Road Racing Calendar has been confirmed.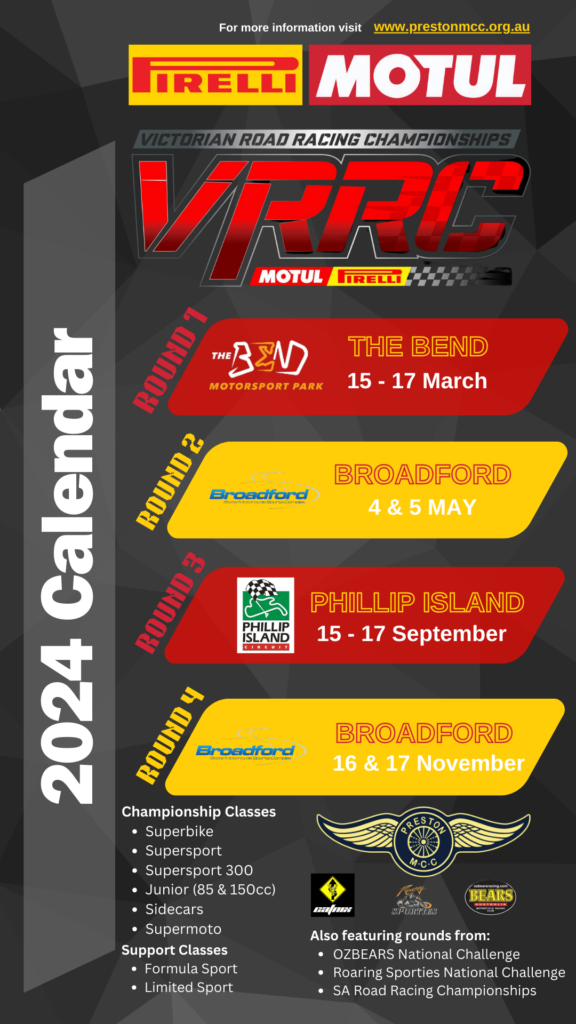 The Committee will be hard at work over the holiday period ensuring we can create a great season,
If you have any questions, please do not hesitate to call or email the office:
Phone: 1300 204 845
[email protected]
CLASSES FOR ENTRY:
Superbike 1000 – Outright, B & C grade
Supersport 600 – Outright, B & C grade
Supersport 300
Sidecars
Juniors
Formula Sport – Thunderbike, Pre-Modern 1000 & 600, Period 6 & 7 Unlimited
Limited Sport – Formula 400, Twin Sprint, Supermono, 250 Road Bike, 125GP/Moto 3, SuperTwin
Oz Bears
Supermoto
Roaring Sporties
We thank our series sponsors Pirelli Motul & Cykel Products Australia for their continued support and appreciate the contribution made by our industry partners and stakeholders. Please see our sponsors below and support them so they can support us.