Preston Motorcycle Club will host four rounds of Bracket Racing in 2022 with the help of our series sponsor, Shannons Insurance.

Event Calendar
This event calendar may be subject to change. We hop to have some exciting news in the coming weeks about our proposed Phillip Island Bracket Round in October.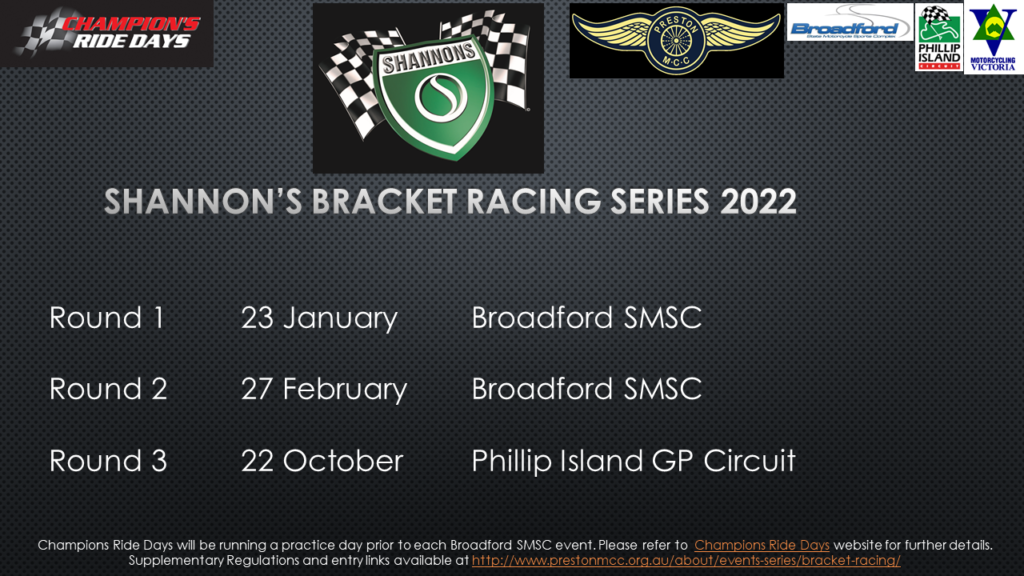 What is Bracket Racing?
It doesn't matter if you are a novice, or an advanced rider, this event is open to all eligible bikes and racers (refer eligibility).
Every rider will be timed during qualifying and put into a bracket (a group of riders with similar lap times) in which they will compete. This ensures close and interesting racing regardless of equipment, and fun for all with everyone having a chance to win in their bracket.
2022 Bracket Racing Supplementary Regulations
Competitors must read and familiarise themselves with the supp regs for this series. Please ensure you have read the document and understand the rules and regulations applied to the series.
Enter Round 1 HERE :
https://calendar.time.ly/lom2ukea/event/69083013/20220123000000
Frequently Asked Questions
Eligibility
Race license is required (single-event race licenses available for $75).
Bike must be prepared as according to the GCR's: Prep Guide for Racing
Sorry no Juniors or Sidecars.
Format
Qualifying is divided into 4 groups:
Advanced
Advanced B
T-Over 500cc
T-Under 500cc
Riders get 3 x 10 qualifying sessions and 3-4 x 6 lap races, as well as a Supermoto race (Bradford only) at the end of the day for those with suitable machinery.
Presentation of trophies and free BBQ at the end of the day.
Rider briefing 8.30am, on track from 9am – 5pm.
Pricing
Broadford $150 includes transponder hire, rider levies & 1 garage space.
Phillip Island $300 includes transponder hire, rider levies & 1 garage space.