Preston Motorcycle Club will host three rounds of Bracket Racing in 2022 with the help of our series sponsor, Shannons Insurance.

ROUND 2 Bracket Racing. 5th June – Broadford
ENTRIES OPEN
We are back on track for round 2 of the Shannon's Bracket Racing Series and looking forward to seeing all of our bracket racers back for 2022. We also hope you've brought your mates to race with us as well. Remember to renew your PMCC membership prior to entering, as you must be a member to play.
Your entry includes a garage space and transponder, so it's an absolute bargain race price.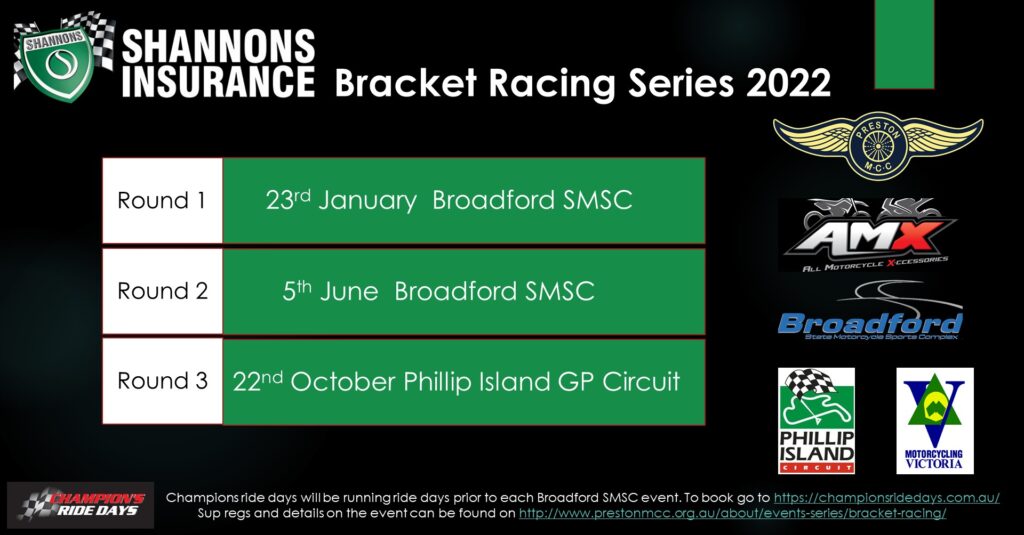 What is Bracket Racing?
It doesn't matter if you are a novice, or an advanced rider, this event is open to all eligible bikes and racers (refer eligibility).
Every rider will be timed during qualifying and put into a bracket (a group of riders with similar lap times) in which they will compete. This ensures close and interesting racing regardless of equipment, and fun for all with everyone having a chance to win in their bracket.
2022 Bracket Racing Supplementary Regulations
Competitors must read and familiarise themselves with the supp regs for this series. Please ensure you have read the document and understand the rules and regulations applied to the series.
Bracket Racing Prep Guide 2022
This guide is designed to assist people to prepare their bikes in line with the current regulations. It is not designed to replace the General Competition rules found in the 2022 Manual of Motorcycle Sport. All riders are encourage to read the rules prior to entering. https://www.ma.org.au/licences-rules/rules/general-competition-rules/
Event Calendar
Round 2 Bracket Racing 2022 SEASON UPDATE
The upcoming Bracket Racing event on Sunday 27th February has been rescheduled to the 5th of June at Broadford.
For an exciting addition for club racers, the Victorian Road Racing Interclub clubs have joined forces in 2022 to bring Interclub racing back to the iconic Phillip Island Grand Prix Circuit. We are excited to announce the addition of the 2022 Phillip Island Club Racing Festival to the calendar. The event(s) will take place on the 21st, 22nd and 23rd October 2022.
Preston MCC, Sandringham MCC, Newport Braybrook MCC, The Harley Club of Victoria, The Sidecar Club of Victoria, Gippsland Centre MCC and Newport Braybrook MCC will host a 3-day event at The Island which will include a Friday Practice facilitated by Preston MCC, Shannon's Bracket Racing Series final round on the Saturday and finish with the final round of the Victorian Motorcycle Wreckers Victorian Interclub Championships on the Sunday, featuring the competitive club v's club battle for the Victorian Interclub Team Shield.
The 3 day, 2-event weekend will include options for competitors to enter for 1, 2 or 3 days across two Victorian Road Racing series at club racing prices (wait what? Let me read that again). We encourage all of our people to take advantage of the track time, race the lot and make it a big one!
The event was cleverly orchestrated to get our club racers and events back to the Phillip Island Circuit after too much time away. The event(s) will be open to all members of the Interclub clubs above. If you are not a member, get yourself signed up and get on board. If you're not entering, support your club by getting down and cheering your team on or volunteering trackside.
There will be sponsor prizes all over the place. There will be so many trophies, we'll need a semi to get them all to the presentations that will be held on both racing days. There will be so much track time, you might want to book your Monday sickie now. If you're a fan of racing and Phillip Island GP Circuit, it's an event you can't miss.
We welcome and facilitate racing from novice to A grade, inexperienced to veteran. We welcome family, friends and racing enthusiasts to join us. Spectator entry is free. It's sure to be a special weekend.
Further information and entry links will be announced on club social and web pages, via email and on RiderNet. We will keep you all posted.
Frequently Asked Questions
Eligibility
Race license is required (single-event race licenses available for $75).
Sorry no Juniors or Sidecars.
Format
Qualifying is divided into 4 groups:
Advanced
Advanced B
T-Over 500cc
T-Under 500cc
Riders get 3 x 10 qualifying sessions and 3-4 x 6 lap races, as well as a Supermoto race (Bradford only) at the end of the day for those with suitable machinery.
Presentation of trophies and free BBQ at the end of the day.
Rider briefing 8.30am, on track from 9am – 5pm.
Pricing
Broadford $150 includes transponder hire, rider levies & 1 garage space.
Phillip Island $300 includes transponder hire, rider levies & 1 garage space.